Partnerships for Progress
The synthesis for the Jisc Access to Resources and Open Innovation (OIA2R) initiative is now available.
Dip in to find case studies from the projects outlining what they did, why they did it, and how you could also set up collaborative partnerships to bring agility to your institution to better thrive in a competitive environment.
A downloadable postcard of the ten principles for OIAR2 can be found here
Also check out the article on the initiative in the March 2014 Edition of Jisc Inform
Professional Development Diagnostic Tool for BCE
The Professional Development Diagnostic Tool for BCE is an online tool for engagement professionals to help you and your team assess your knowledge, evaluate your skills and find relevant resources. The resource is also valuable for HR teams, researcher development programmes and any staff in education and research who have new collaborative and enterprising aspects to their roles.
Click here to access the tool
Watch our 2 minute screencast for a brief explanation of how the tool works: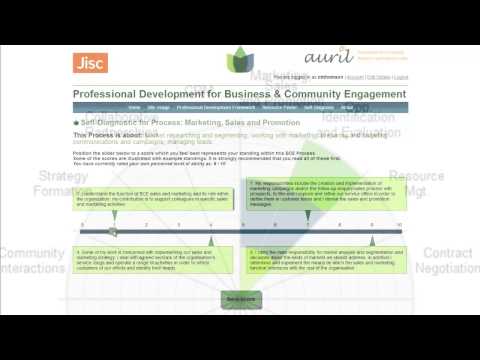 Relationship Management infoKit
The Relationship Management infoKit describes some of the challenges faced by institutions in improving and maintaining relationships with a range of different stakeholders, who all have different needs and expectations. It looks in more detail at some of the benefits offered from taking a more managed approach with different groups and the kinds of institutional systems, processes and mechanisms that can support this.
It highlights good practice in the sector as a result of the Jisc Relationship Management programme, with a particular focus on alumni engagement, student retention, progression and non-completion. All the examples of good practice and many of the citations contained within the guide come from practitioners in the sector.
Read or download the infoKit here
BCE Programme Synthesis
The Jisc Advance BCE team have produced a synthesis of the BCE programme. The synthesis activity looked at all BCE projects from the inception of the programme to the end of Phase 1 in 2010, and aimed to gather and analyse outputs, tracking outcomes and benefits.
The output of the synthesis is made up of eight sections, each of which are available below:
Introduction
Enabling change
SME Engagement
Open Innovation and Access to Resources
Embedding and communicating BCE
Facilitating collaboration
Relationship Management
Lifelong Learning
BCE Projects and Outputs
The Jisc BCE Programme comprises a wide range of projects from across the UK. Projects are typically managed by a University or College. Experiences and lessons learned are collated and then shared back with the sector. A comprehensive list of BCE outputs and ongoing projects can be found via the Jisc Advance BCE Team's high level plan (see worksheet 2—BCE programme output inventory).
BCE in Jisc Advance
Jisc Advance provides impartial advice, guidance and resources to enable effective and innovative use of technologies for the UK education sector through its network of advisory services and regional support centres. Support, advice and resources are built around five core themes – organisational efficiency, enhancing learning and teaching, external engagement, sustainability and research. Business and Community Engagement forms a part of the core offering under external engagement.
The following case studies (click on one to enlarge, print or download) provide you with a flavour of what's on offer across Jisc Advance.
For more detailed information about what's available from Jisc Advance take a look at some of the service websites: