Back in May 2010 the 'Trialling Collaborative Online Tools for BCE' project held an event looking at ways in which we could mediate boundaries, particularly online, between the further and higher education sectors and external organisations, whether commercial, public sector, cultural, social or civic.
It was a great day with outputs feeding into the online guidance delivered by the project. At the end of the day we managed to video a discussion between some of the speakers which, for various reasons, we've struggled to make public – until now.
Please find below a video of the discussion between Jeremy Davenport, Paul Lowe, Etienne Wenger and Brian McCaul chaired by the JISC BCE Programme Manager Simon Whittemore.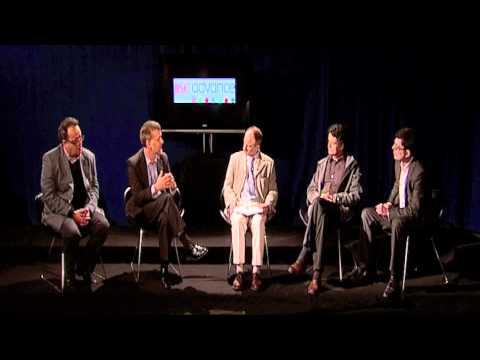 The core competencies of people leading/convening an online CoP was one of the main discussion points during this session; these include (links below point to the relevant points of the video above):
The agility to take something developed for one context and deliver that in another – a broker if you will.
The ability to translate and visualise potential benefits.
A demonstrated reputation across the community.
A mixture of skills and experience – try to avoid 'rolling eyes syndrome'.
T-shaped skills profile: deep knowledge in own domain and broad knowledge across others'.
Good social skills and communication skills along with the relevant technical skills.
Strong personal engagement with the domain.
Knowing when a CoP should come into being or when brokering across boundaries is enough, or even just a visit to another community.
Being authentic – it's not only about pollination (of ideas, practice), but also application.
The ability to speak different languages and tell stories.
The ability to 'walk at 45 degrees' (metaphorically) with regards to the horizontal (extending into the community) and vertical (organisational affiliation) planes of accountability.
A level of seniority to engage the horizontal and vertical planes of accountability.
Other key messages include:
It's not only about incentivising staff but providing them with the time to make mistakes and fail in order to be able to succeed.
A mixture of storytelling and highlighting achievements helps to engage institutional senior management (SMT) with regards to the importance of CoP.
The tag of 'broker' gives the CoP lead that credibility required. Things have moved on too in that SMT see the importance of this type of role.
There are tensions with regards to reporting to the community and within the organisation which emphasises the importance of storytelling, and the affective/emotional engagement.
A community is not an end in itself; it should have a focus/domain which leads towards impact.
Spaces must be meaningful and authentic arenas where you can exchange ideas.
A CoP doesn't necessarily need to be sustainable but should create sustained benefits. CoPs are developed to meet a need which is why it's so important to have a clear purpose and generate the desired benefits.
Brokerage does not have to be carried out by one person; brokers can work in pairs.
This discussion is not intended to be definitive; If you have any experience, thoughts or ideas to contribute on effective online CoPs, please add them using the comments box below.